On the afternoon of Sunday the 15th March Wairarapa Branch members Sharon and Steve Playle, Steve Martel, Chris Johnstone and Taranaki Branch members Alan and Mel Candy and including a non-member Neil Johnstone all headed across Foveaux Strait on our annual pilgrimage to Stewart Island for 10 days of R & R with the emphasis on hunting and fishing, two activities that the Island and its coast line and sheltered bays are infamous for. The hour long sailing from Bluff to Halfmoon Bay was completed with no fuss as only a slight swell was running. Southerly rain had commenced by the time the Ferry docked at Oban so we made a bee line to the Hotel to get accommodation squared away for the night. Phillip Smith from Bravo Adventure Cruises arrived following my phone call to uplift our rifles until we sailed with him the following day. Our grocery order previously emailed to the Island's Grocery Store was all complete and ready for us to uplift at 7.30am the following morning.
After a great night's hospitality and a welcome sleep at the South Seas Hotel, we were all eager to leave for Fred's Camp and South West Arm our two hunting blocks situated well up in Patterson's Inlet. With groceries and gear stowed aboard Phillip's boat "Wildfire" and permits collected from the DOC office, we pulled away from the jetty around 9am on the Monday morning for the 1.5 hour boat trip to our destination. The weather was on "the improve" with the sun breaking out as we sailed on an oily smooth sea upon entering the Inlet and all the way to the Jetty at Fred's Camp.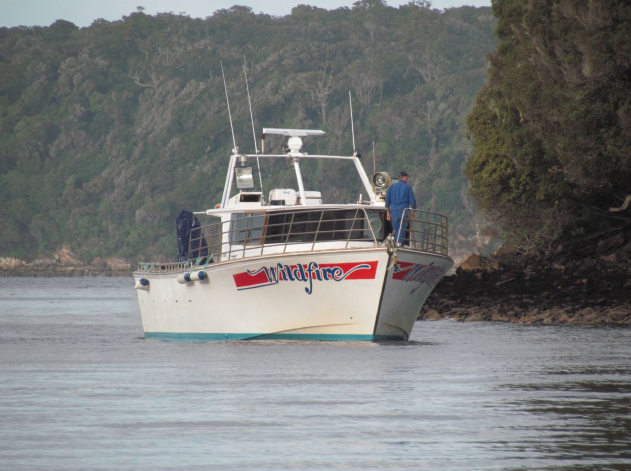 Chris and his brother Neil were to stay and hunt the South West Arm block while the rest of us settled in at Fred's. This hut was very spacious and accommodating as it caters for trampers and hunters. We had plenty of room to spread ourselves out, something that is impossible at the smaller hunter camps on other blocks.
With the cooking equipment setup and operational and unpacking completed, lunch and a brew was next on the agenda. Mid-afternoon saw me heading up the hill behind camp to assess the whitetail activity in the area that I had designated for myself to hunt. Sign wasn't overly abundant but by being careless with my footing I did manage to upset a young whitetail that bolted before I could compose myself for a shot. After dropping into a side creek I followed it down to where it bisected the Rakeahua tramping track and from there I made my way back to camp as darkness was setting in. This circuit was my routine for the next few days as the others had also identified areas to hunt. Over the next couple of days I "lucked out" with no further sightings of deer during my hunts. Persistence paid dividends on the evening of day four when I got the drop on a whitetail spiker about 7pm in the evening. A single shot from my 7mm/08 had meat secured for the team.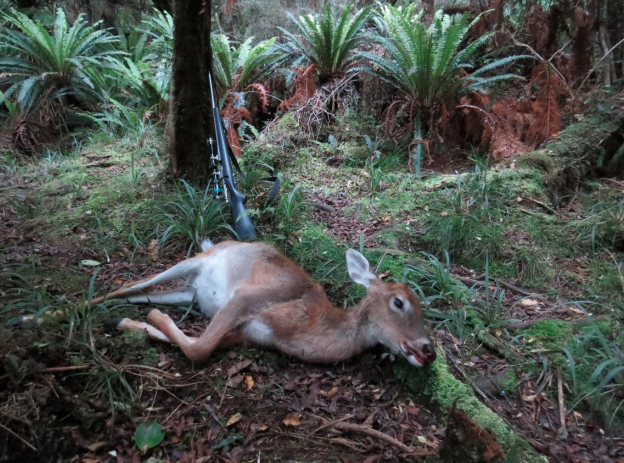 The boys at South West Arm had scored two deer that day also and Alan shot a deer in very poor condition also on the same day. Over the remaining time on the block I didn't encounter another deer. A couple was sighted by the others but no more were secured. I entertained myself with a couple of fishing expeditions to target Blue Cod off the rocky peninsulas in our loaned 12 foot aluminum dinghy. Alan was the skipper and we were successful on each outing with some pretty decent cod brought onto the boat. We did have to contend with Spikey Dog sharks and also had the misfortune to hook-up on a few large seven gill sharks too. In all cases they threw the hook or cut off the hook and sinker for which we were most grateful.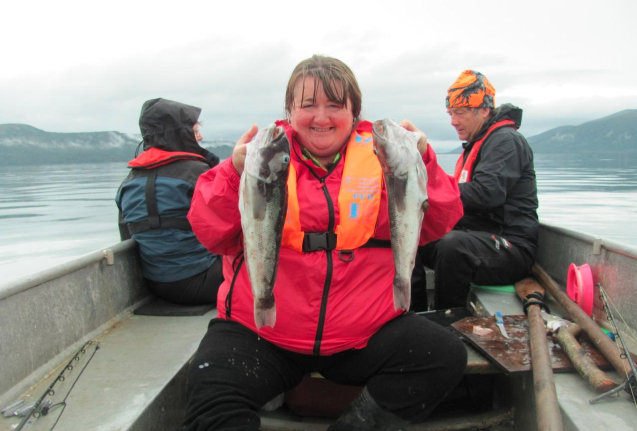 Between cod, venison and mussels that we collected from the rocky shoreline our diets were well complemented.
The girls spent a whole afternoon catching spotties off the jetty with Steve on hand to remove caught fish and undertake the re baiting of hooks. The action was constant with hook-ups as soon as lines were dropped into the water.
Part way through the trip we had an American tramper from Cleveland Ohio call and stay a night with us and he got to dine on some fine cuisine after living on dehydrated tucker for almost two weeks. Upon his departure we swapped contact details and he made the offer of a whitetail hunt over in his State at some future time.
On the morning of the 23rd a young hunter was shot dead by a member of his own party on a neighboring "Hapuatuna" block. We saw the helicopter fly over in the morning and later learnt of the tragic incident late in the same day. Luckily we had cell phone coverage and were able to relay to family and friends that we were not involved.
Before we knew it our 10 days of bliss was at an end and my 11th trip to the Island was drawing to a close. Phillip arrived to collect us on the afternoon of the 25th at around 2.40pm and luckily the heavy rain showers we'd experienced over much of the day had abated in time for us to get our gear stowed aboard dry.
Once back at Oban we bolted to the Hotel for the first decent shower in 10 days. Then it was down to the bar for a beer before going to Phillips house to settle our account. He later took us up the road to his son's Hanger at Fern Gully to ogle over some impressive mounted whitetail heads that he'd taken over the years. On the trip there and back we had two encounters with whitetail that cantered across the road in front of the vehicles. One was a very large doe and the other was a yearling. After 10 days of cat and mouse behavior on a hunting block it was hard to take having deer tease us in that manner. I felt especially sorry for Steve as he had just completed his second whitetail trip without getting a shot and now had deer present themselves on the road in front of him. That really rubs salt into the wounds.
We arrived home late in the evening on the 27th March and promptly set the wheels into motion for another trip back to "paradise" in late March 2016.