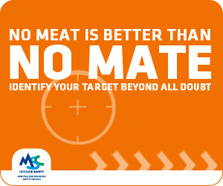 The Mountain Safety Council is urging all hunters heading out for this year's roar to think twice before pulling the trigger. 'No meat is better than no mate' is the mantra that all hunters should know and remember says Firearms & Hunter Safety Programme Manager Nicole McKee.
With increased hunting activity expected, especially on public land, now is a good time for hunters to refresh themselves of the seven basic rules of firearms safety, before going bush.
'Identifying your target beyond all doubt is perhaps the most important rule at this time of year and should be second nature to all firearms users,' said Mrs McKee.
Hunters should avoid firing at shape, colour, movement or sound. The advice is to be aware that under certain circumstances the brain can trick the eyes, so you should assume any shape, colour, movement or sound is a human until you can prove otherwise.
'Hunters should sight the head, neck and shoulder of the animal all at the same time, or at least enough of the animal to positively confirm target identification. Make sure that what you are looking at is not a fellow hunter carrying a dead animal.' added Mrs McKee.
Thankfully there are very few non-intentional firearms incidents in New Zealand that lead to injury or death. However, tragedies do occur and often they coincide with an increased number of hunters participating in the roar. When the freezer is empty and the pressure is on, it's easy to let your emotions take over. However, good hunters will be aware that this can happen; they will recognise the symptoms (which are also known as 'buck fever'), and will take action to make sure they don't succumb to the tricks that your eyes and brain can play.
'If all hunters followed each basic rule to the letter, then there would be zero non-intentional firearms incidents in New Zealand. They are all avoidable. It's as simple as that and we are hoping for an incident-free roar this year,' said Mrs McKee. Hunters should also take care when venturing in tricky terrain. Slips and falls can occur at any time and whether deep in the bush, climbing a fence or obstacle or chasing that Tahr on to a rocky outcrop, taking care of yourself before taking the shot is vital. Incidents involving hunters falling and shooting themselves or a companion have been reported in the past.
Rule three states that you should 'only load a firearm only when ready to fire' and make sure that you are in an area where it can be safely discharged. If game gets away, put the round back in the magazine and close the bolt on the empty chamber.
Lastly, wearing coloured clothing that contrasts with the environment (and deer) will help you to be seen by other hunters who may be in your area. However, the responsibility of target identification always lies in the hands of the person carrying the gun.
For more information about firearms and outdoor safety, please visit the Mountain Safety Council website
www.mountainsafety.org.nz/firearms